Happy Independence Day 2023 :: Famous slogans of Independent India
Famous Slogans of Independent India
Happy Independence Day 2023:-This Day is a momentous occasion that symbolizes the spirit of freedom and unity. It's a day when a nation comes together to celebrate its sovereignty and the sacrifices made to attain it. Whether through parades, flag hoisting ceremonies, or vibrant fireworks displays, the atmosphere is charged with patriotism and pride. It's a time for reflection, to remember the struggles of the past that paved the way for a brighter future. As we mark this day, let's not only revel in the festivities but also reaffirm our commitment to upholding the values of liberty, diversity, and progress. Independence Day serves as a poignant reminder that freedom is a privilege to cherish and protect, and that the journey towards a more just and equitable society is ongoing.
Famous slogans associated with India's freedom fighters.
Mahatma Gandhi:
"Satyagraha is the weapon of the strong."
"Be the change you wish to see in the world."
"Ahinsa (non-violence) is the greatest force at the disposal of mankind."
Subhas Chandra Bose:
"Tum Mujhe Khoon Do, Main Tumhe Azadi Dunga".
"Jai Hind!"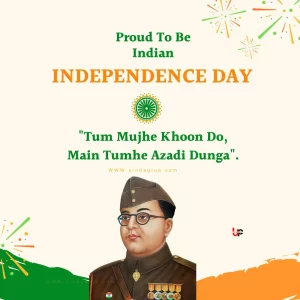 Bhagat Singh:
"Inquilab Zindabad!"
"They may kill me, but they cannot kill my ideas. They can crush my body, but they will not be able to crush my spirit."
Sardar Vallabhbhai Patel:
"Unity is India's strength; disunity is her weakness."
"Every citizen of India must remember that he is an Indian and he has every right in this country but with certain duties."
Jawaharlal Nehru:
"A tryst with destiny."
"Kahati Bharat ki aabadi, Hai jaan se pyaari Aazadi"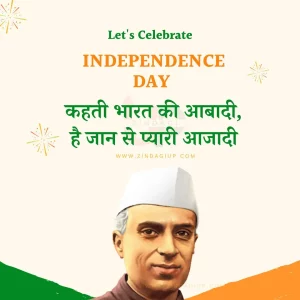 Lal Bahadur Shastri:
"Jai Jawan, Jai Kisan"
"Success in life is founded upon attention to the small things rather than to the large things."
Bal Gangadhar Tilak:
"Swaraj is my birthright and I shall have it."
"Freedom is my birthright; I shall have it."
---
Happy Independence Day 2023 :: Famous slogans of Independent India
Independence Day 2023 Speech :: 15 August speech in English for child
Independence Day Speech In Hindi 2023:: 15 August Speech in Hindi for Child
यदि आप इस ब्लॉग पर हिंदी में अपना कोई आर्टिकल या जो भी जानकारी Share करना चाहते हैं  (Guest Post) तो कृपया अपनी पोस्ट    E-mail करें. Id है – '[email protected]' पसंद आने पर आपकी पोस्ट zindagiup.Com प्रकाशित की जाएगी।